03/14/2014 at 4:35 am
#1975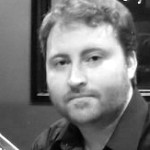 Dan Reynolds
Participant
Hey Austin,
I'm just seeing this, if you're still looking (though I suspect you've probably had a decent response), I could transcribe a part for this old piece:

The cellist I originally worked with was fine with me just sending him the MIDI part. It's quite a simple part and probably wouldn't be too difficult to demonstrate/play.
Let me know if you're still looking because I'll be in the studio on the 14th until 3p or 4p on an unrelated project and I'll have to transcribe the MIDI out to a part.