06/04/2015 at 7:13 pm
#3391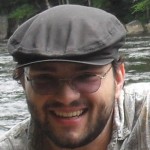 Timothy Adan
Member
Thank you very much for your input!
The Wwise demo was the most recent thing, and definitely the most pertinent as far as my current work (along with the Forest Heart presentation on the bottom of the page, you didn't get that far though :3)
As for the other work, I can see how it can be dated. Its still some of my favorite work, but its from a while ago. I'd change it out, but a lot of what I have worked on since then, I either am not happy with (even if those I wrote it for WERE happy with it) or belongs to something that isn't finished yet, so I need to get permission to put up. As for the samples, I'm essentially waiting on having enough money to get some more, but sample libraries are a bit too much for me at the moment lol. These are all things I plan on fixing, thanks to your input. Perhaps I'll get permission to put up some of my more recent work.
As for the web design, I might be able to find someone to help. You bring up a good point that it isn't really interesting. I'll see what I can do about that (probably not much, but I'll try lol).
thank you for reviewing my website, and nice to meet you 🙂