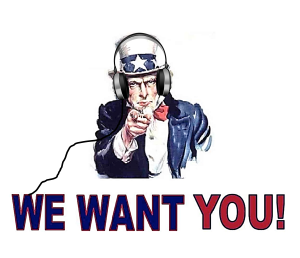 GANG is recruiting judges for two new screening committees to oversee all GANG Awards music categories.
We need applicants who care deeply about game music and about the prestige of these awards – professionals, students and enthusiasts. If you qualify, please send in your application ASAP. Read thoroughly below for all the relevant details:
CALL FOR APPLICATIONS – HELP SELECT G.A.N.G.'s MUSIC AWARDS FINALISTS
The Game Audio Network Guild continues to make every effort to ensure that the G.A.N.G. Awards are the most meaningful and prestigious awards in the game audio industry. As part of this constant effort, we are refining the screening process by which all music categories are advanced to final nomination.
G.A.N.G. is forming two new screening committees to review all submissions in music related awards categories. Committee members will critically evaluate each submission in assigned categories and advance the most outstanding entries to general membership for final voting.
Here are the new screening committees and their assigned awards categories:
GLOBAL MUSIC CATEGORIES (committee 1):
Music of the Year
Best Original Soundtrack Album
Best Music in a Casual/Social Game
INDIVIDUAL MUSIC CATEGORIES (committee 2):
Best Original Instrumental
Best Original Vocal Song – Pop
Best Original Vocal Song – Choral
Best Game Cover/Remix
The Game Audio Network Guild is looking to its membership to form these committees with highly committed individuals. Each member must possess a keen appreciation for game music scoring and be capable of rendering thoughtful critical assessments. We need quality-driven professionals, conscientious students, and passionate game music enthusiasts among our membership to apply to serve on these judging committees. Would you be interested in participating? We are seeking volunteers!
To be considered for a place on a music award screening committee, applicants must:
1. Be a current G.A.N.G. member, and remain a G.A.N.G. member through the duration of the screening process.
2. Commit to listen sufficiently to every submission in the assigned music categories with no exceptions.
3. Dedicate significant time during the screening weeks to listen, weigh and evaluate, then vote conscientiously. Each committee may field over 100 music submissions annually. Expect to dedicate approximately 20 hours over a two-week period.
4. Adhere to GANG's voting policy on conflict of interest. Committee members may not vote for their own submissions, submissions upon which they worked, nor submissions from their company.
HOW TO APPLY
Professionals submit a select list of commercially released video games worked on, awards and nominations, and a brief statement of commitment to the criteria outlined in 1-4 above.
Students submit a select list of music courses and compositions completed, any awards and nominations, a recommendation from their academic program, and a brief statement of commitment to the criteria outlined in 1-4 above.
Enthusiasts submit an essay on the subject, "What makes great video game music?" with some reference to the categories in the committee applied for, and a brief statement of commitment to the criteria outlined in 1-4 above.
Send materials outlined above, to:
committee_applications [at] audiogang.org
Please identify yourself as a Professional, Student, or Enthusiast in the email subject heading, indicate your preferred voting committee (Global Categories or Individual Categories), and include your G.A.N.G. membership expiration date.
The call for applications is open from now until October 21. We need 10-15 individuals for each committee. Applications will be reviewed on a first come, first serve basis, so apply now for earliest consideration.