This month we spoke with Brian Trifon and Brian Lee White, the duo behind Finishing Move Inc.  We discussed their recent GANG award winning work on the Halo 2 Anniversary Soundtrack as well as their new score for Massive Chalice. Check out their other work here 
How did you end up wor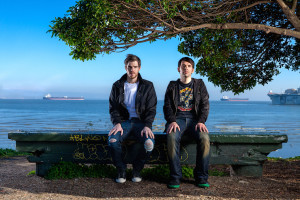 king together in partnership and now working on games?
White: We were friends and worked together on projects for years before forming Finishing Move, often hiring each other for projects we were working on. During that time we recognized we had a very complementary skillset and by teaming up we could take on a lot more, both creatively as composers and structurally as a business. Game audio was something we were always interested in and Trifon had been doing some freelance work for a few different game composers when we formed our team, so strategically moving in that direction and finding new projects seemed like the right move for us. Thankfully, we've been fortunate in that regard and been able to work on some amazing projects.
Trifon: As White mentioned, before forming Finishing Move, I had been working freelance as a session musician and additional composer on a number of game projects. For a few years I had wanted to transition to higher responsibility and larger scale projects, but I didn't have the bandwidth to do it alone. I knew that White and I work amazingly well as a team, and that our best chance for scoring larger projects was to formally team up and combine our powers.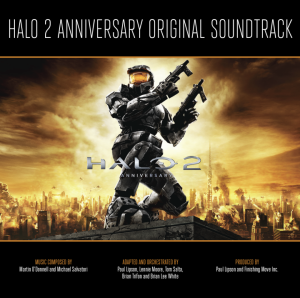 How did you come to work on Halo 2 and what were your roles in adapting and producing the reimagined soundtrack?
Trifon: I had worked on Halo: Combat Evolved Anniversary along with Paul Lipson, Lennie Moore and Tom Salta, which led to the opportunity to work on Halo 2 Anniversary. It was great to work with the same amazing team on Halo 2 Anniversary!
Producing the reimagined soundtrack involved a lot of organization and research of the original Halo 2 music assets. Together with Paul Lipson (Senior Audio Director 343i/Microsoft Studios) we mapped out which music assets needed to be recreated, transcribed and recorded, and then we came up with a plan of how to get it done. As co-producers of the soundtrack along with Paul, White and I were responsible for contracting the other composers, booking and overseeing the orchestral recording sessions at Skywalker, as well as delivering the surround mixes and edited in-game music assets. It was our job and mission to maintain the highest level of sound quality every step of the way.
From a compositional standpoint, White and I focused primarily on recreating the ambient, textural and rock cues. Lennie Moore and Paul primarily focused on transcribing and orchestrating the choral and orchestral cues, and Tom Salta focused on recreating many of the percussion and synth cues and elements.
How much has changed in the new version for the Halo 2 Anniversary? What was the guidance like behind the vision of the rerecording?
White: The music itself is pretty much a note-for-note recreation of the original score. Our core goal was to honor the intention and emotion of the original score by Marty O'Donnell and Michael Salvatori, while updating the sonic experience for a modern console, the Xbox One. With Halo 2 Anniversary, we were able to take advantage of increased resources, like more time with the orchestra and choir, as well as technical advancements in the console, like mixing all the music in surround. In a lot of ways, what we did with the score is very similar to what Blur and Source Sound did with the re-imagined cut scenes. The cut scenes in Halo 2 Anniversary have been totally redone from scratch to take advantage of the latest visual and post production technology, and they are absolutely stunning, but ultimately they tell the same exact story and have the same script as the original cut scenes.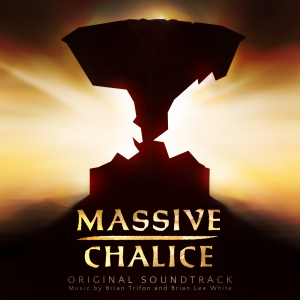 What process did you go through when composing for Massive Chalice? I've seen the kickstarter page talks about 'breaking the mold of the typical fantasy soundtrack'. Would be very interesting to see how you approached creating a different fantasy musical world and the inspirations for the soundtrack.
White: Massive Chalice takes place over many hundreds of years, so one of the first things we discussed was trying not to tie it stylistically to one specific time period or musical era. Even though the game takes place in a fantastical sort of world, the creators specifically told us that they didn't want go the typical fantasy, or "Lord of the Rings" route with the score, which was fine because that really isn't our jam anyways. Besides that basic direction, we had quite a bit of creative freedom in crafting the sound for the world. Where we ended up going was a bit of a post-rock vibe blended with more eclectic world elements, so you'll hear electric guitars and bass, but also many acoustic instruments and percussion. We performed and recorded all the instruments ourselves, except for the viola parts, which were performed by Nils Bultmann.
How do you handle working in partnership on a new score like Massive Chalice and do you have a set method of collaboration for each project?
White: While there is no set way that we collaborate on any given project, we each have our own strengths that we can play off of to support each other creatively. I'm very structurally inclined when it comes to composing, whereas Trifon can be very open-ended in his pursuit of arrangement textures. I might start an idea and give it a basic framework and he will come in and flesh that out with all kinds of amazing elements and textures, then I'll come back and polish/distill that back into something that is appropriate for the finished production. By bouncing stuff back and forth, we can overcome that "stuck" feeling you run into when you are working alone. At the same time, we are also acting as each other's quality control, in case either one of us needs a little head check. It's a very iterative but incredibly supportive workflow.
Trifon: The "tag-team" approach has made both of our lives a lot easier. If you've ever worked alone, then you know that once you hit a plateau with a piece of music, you can spend a lot of time hitting your head against the wall and not make any progress. Working as a team eliminates quite a bit of fatigue and frustration. We do a little extra work sending files back and forth, but ultimately we end up saving a lot of time and we maintain an excellent quality level, because of the built-in checks and balances. It also helps that White is a world class mixer. He ends up doing the final mix on everything — and it always sounds fantastic!