This month, we are happy to share the story of one of our members, Penka Kouneva. Penka has been a pillar of the game audio community for the last decade, constantly sharing her knowledge and experience with those that are looking for advice.

EL: Tell us about your journey. Where did you begin your path to becoming a composer, and how have things evolved since coming to US from Bulgaria?
PK: I'm a composer with studio credits in four fields of entertainment (film, TV, games and VR). My heart is in games because of the exciting creative opportunities and the brilliant people. Becoming a game composer made me a better composer overall. Game scoring requires great themes and a unique musical sound that becomes part of each IP. In my youth, I studied at the Bulgarian Academy of Music, got Masters and Doctorate in composition at Duke University, and in 1999 arrived to LA with a dream of becoming a film composer. I was mentored by Patrick Williams who introduced me to Hans Zimmer's orchestrator, Bruce Fowler. In 2004, Bruce assigned me to orchestrate for Steve Jablonsky, which led to working on the Transformers franchise. My biggest "breaks" came after I released the concept CD, The Woman Astronaut – this led to scoring a NASA theme park at the Kennedy Space Center, and most recently, a Hollywood Bowl concert with Los Angeles Philharmonic celebrating the Moon landing anniversary.
EL: When did you start working on games? Who were your mentors and partners in your game audio career?
PK: Steve Jablonsky opened the doors of games for me by bringing me in to compose high-level action loops on Transformers: Revenge of the Fallen game in 2008 (I auditioned for the gig by scoring three action loops). After that, he included me as his co-composer on Prince of Persia: Forgotten Sands (2010), and arranger on Gears of War 3. I began fostering relationships with game developers and received scoring jobs on my own. To date, I've scored a handful of mobile games (Cookie Jam 2, DragonStrike, Meow Match, Galaxy), and VR games (The Mummy VR – for which I was recommended by composer Jesse Harlin). Yes, I play a lot of console and VR games ☺
EL: In 2015 you released The Woman Astronaut – how has that impacted your career since?
PK: Releasing this orchestral concept album was the best thing I've done. I began working with my mentor and manager, Victor Rodriguez, who I met while he was the Music Director of THQ. The NASA scoring job came via a game audio friend, Jesse James, who loved the Woman Astronaut. (The NASA exhibit Heroes and Legends featuring US Astronaut Hall of Fame will live on for decades at the Kennedy Space Center.) Recently, composer Joe Kraemer brought me to co-compose on the primetime TV show Pandora (a Sci-Fi-action-drama on the CW network) because of my orchestral work on that CD. After researching astronaut movies for the NASA exhibit, I created an idea for a symphonic concert with movies about astronauts. My idea was picked up by LA Phil and premiered at the Hollywood Bowl to celebrate the 50th anniversary of Moon landing. I also scored the Sci-Fi-drama feature Encounter (Sony DVD) and three other feature films – all these can be traced back to The Woman Astronaut.
EL: What was it like putting together the America in Space concert at the Hollywood Bowl? How did you go about programming the concert, organizing the event, etc.

PK: The idea was to celebrate astronauts – true American heroes who had the courage to sit on top of ten million pounds of explosives for the sake of progress. I was already familiar with Hollywood movies about astronauts, like The Right Stuff, Apollo 13, Hidden Figures, and First Man. Also, in 2018, I created an orchestral game concert The World of Video Games together with Classic FM Orchestra in Sofia, Bulgaria. It featured Neal Acree's masterful, amazing music from his work with Blizzard, Jessica Curry, and nine other top game composers. Having created this program for a sold-out game concert, I ventured to create the astronaut concert with film scenes. LA Phil's producer team negotiated the sync licenses with each movie studio over five months. I was determined to have diversity and inclusion in the Bowl concert. To honor NASA's 50 real women astronauts, we commissioned a short commemorative documentary which I scored – one of the show's most popular highlights.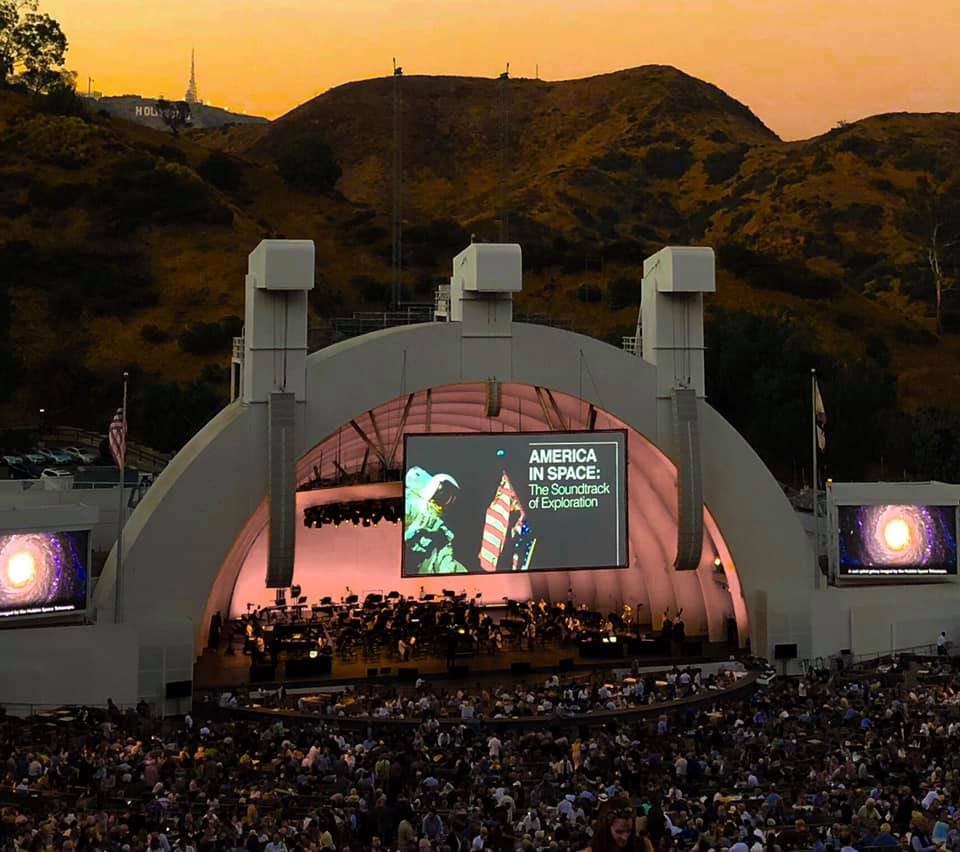 EL: How has working on these projects in the games industry helped you become a better composer?
PK: Learning to score interactive game audio has made me a better overall composer. I've learned to pay close attention to non-linear details, which has dramatically increased my flexibility and resourcefulness with music composition. Through my collaborations with the diverse and brilliant creatives in games, I've naturally evolved into a better collaborator. I've learned to listen closely to sound design and pay attention to how all the game's audio elements come together in the mix. Every game I score has its own demands; I immerse myself in the gameplay, world, and artistic vision of the project before I write the first note. Composing for games, film and TV has helped me become a better collaborative composer, too. Recently, the showrunner on Pandora was raving about a space battle I scored that had a larger, more sweeping sound than the norm for TV – I owe moments like this to what I've learned composing for games.
EL: What's next for you? What are upcoming projects that you are able to talk about?
PK: Recently I finished scoring the first season of Pandora, which was an amazing experience. This fall, three indie feature films I scored will be released (the Sci-Fi drama Encounter, and the family dramas Ága and Blue) – I wanted to diversify and add features to my resume to round out the work I'm doing for VR and mobile games. I also release an artist project every year (the latest was Invisible Lifeline – piano fantasias – to "write the unwritten music by women composers of the past.") Next, I'm composing music for a big game title and a mobile project. As a freelance composer, I'm always fostering relationships and searching for new projects to score.

I wish much success to all members of G.A.N.G.!
Penka Kouneva's music has been called "fantastic" (Billboard) and "breath-taking" (NPR). Her studio credits include Prince of Persia: Forgotten Sands game (with Steve Jablonsky), The Mummy VR game, and the $30M multimedia exhibit Heroes and Legends at the Kennedy Space Center. With life-long passion for SciFi and fantasy, she was thrilled to co-score with Joe Kraemer the episodic TV show Pandora on the CW network. Penka's feature film scores include Devil's Whisper  and Encounter (both on Sony Pictures DVD); her mobile games include Cookie Jam 2, Meow Match, DragonStrike, Galaxy and others. Penka's composer awards include: the 2015 Recognition Award from Game Audio Network Guild, Sundance Fellowship, Distinguished Duke University Alumna, and two Ovation Awards. Penka's concept albums The Woman Astronaut and Rebirth of Id were released by the top soundtrack label Varese Sarabande to great critical acclaim. In addition, she orchestrates for composer Neal Acree on all Blizzard Entertainment titles.