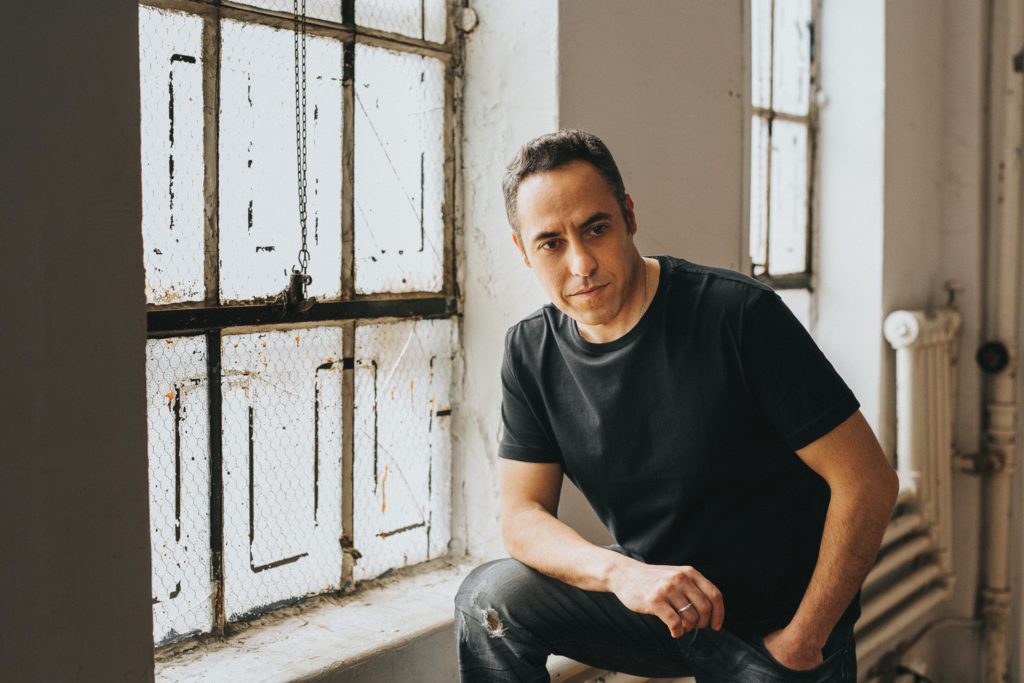 This month, we are featuring ASCAP winning and MTV VMA nominated composer Tom Salta! Tom shares with us his experience working on one of his most recent projects, "Wolfenstein: Youngblood."
EL: Tell us about your how your journey in games got started.
TS: It was the culmination of a life-long love of both video games and music. I started in the record industry back around 1990, touring and working on numerous kinds of projects from pop, to rock, to R&B. My initial dream was to be a record producer. In 2001, I sensed a shift in the music industry and decided I needed to expand beyond it if I were to continue making a living. Simultaneously, I was playing games like Halo, Prince of Persia and Rainbow Six. It felt like an epiphany at the time…That's it! Video game music! This is what I'm meant to be doing…it combines the two things I love the most.
As you can imagine, transitioning into games with no game credits was no easy task. But since I had a strong background in music production, I felt the best shot I had was to create a solo album under a different artist name, and approach the industry from a licensing angle. The plan worked and Atlas Plug was born. Before even finishing the album, Microsoft wanted to license 4 tracks in game one of their flagship titles, Rallisport Challenge 2. This led to other licenses in games like Crackdown, Project Gotham Racing and many others. Within a year, I was starting to get opportunities to pitch on major titles as a composer. Some of my first big scoring credits were Need For Speed Underground 2, Tom Clancy's Ghost Recon Advanced Warfighter and Red Steel.
EL: What was it like jumping into the legacy that is Wolfenstein?
TS: It was a welcome and exciting challenge…certainly not the first time I've jump into an existing franchise with an established reputation and large fanbase, but an exciting challenge nonetheless.
EL: Tell us about some of the highlights working on Wolfenstein: Youngblood
TS: The biggest highlight for me was that this would be the first Wolfenstein in the series that would take place in Paris 1980 and require a unique 1980's post punk/dark synth aesthetic. I absolutely love 80's era synths and studio gear and this was an opportunity to explore how to use these instruments and effect processing in an authentic 1980 musical vocabulary, while still ensuring it felt like a Wolfenstein score.
It also offered me the opportunity to produce a cover version of a Joy Division song, "A Means to an End" with the Swedish electro punk band The Guilt for the ending credits which was a ton of fun. You can hear it now on my Soundcloud page and website.
EL: What kind of information led you to choose an 80s-inspired tone for the score to Youngblood?
TS: This decision was driven by the audio director Nick Raynor and Machine Games…and I was ecstatic to collaboratively explore ways to develop that vision.
EL: What made Wolfenstein: Youngblood stick out compared to other titles you've worked on?
TS: Besides the fact that it was my first Wolfenstein title (which Wolfenstein Cyberpilot being my second), it introduces a new sound that I've never done before. I now call it "Twin Blade" style because it has a unique blend of influences from The Cocteau Twins, John Carpenter and Vangelis' Blade Runner. We were all very happy with the aesthetic.
EL: Any advice you'd like to share with composers in the industry?
TS: Sure. Never be afraid to find your unique voice (and we all have one). This isn't so easy to develop in an industry that often has us imitating the sound of other composers. I also suggest that people approach the industry in a personal way and focus on making friends…not just connections. Everyone likes to hire their friends…or at least people they really enjoy working with, regardless of how talented someone may be.
---
ASCAP winning and MTV VMA nominated composer Tom Salta is one of the most versatile and prolific music artists/producers working in film, television, advertising and video games. Renowned for crafting emotionally engaging soundtracks for multimedia, Salta has received widespread industry acclaim for his world-class produced hybrid scores featured in film, television and video games such as Machine Games' WOLFENSTEIN : Youngblood & Cyberpilot, Microsoft's iconic HALO series (G.A.N.G. Best Original Soundtrack Award), Ubisoft's PRINCE OF PERSIA: The Forgotten Sands and RED STEEL (IGN Award for Best Original Score), Tom Clancy's GHOST RECON and H.A.W.X  series, as well as the epic theme music for the record-breaking online multiplayer game PLAYERUNKNOWN's BATTLEGROUNDS, which has sold in excess of 50 million units with over 400 million players.
Salta's long-time collaborations with 343 Industries and Microsoft Studios include the re-imagined soundtracks to HALO: Combat Evolved Anniversary and HALO 2: Anniversary, as well as composing the original scores for HALO: Spartan Assault and HALO: Spartan Strike (the first HALO video game to be released on Apple devices). Additionally, Salta returned to the beloved sci-fi franchise to score the animated series, HALO: The Fall of Reach, adapted from the best-selling novel and produced by the award-winning animation studio Sequence. His third solo outing in the iconic HALO universe, Salta also composed, arranged and produced the first original pop song in the franchise's history, "Take This Life", featured exclusively on HALO: The Fall of Reach soundtrack.
Prior to his composing career, Salta toured with and worked on releases by a diverse array of popular recording artists. After several years of touring, Salta became increasingly immersed in studio work, producing, remixing and songwriting. Recording under the artist name "Atlas Plug," Salta released the critically acclaimed electronic / orchestral music album "2 Days or Die" which quickly caught the attention of leading music supervisors. His album introduced a new hybrid sound to the visual entertainment industry at large, garnering high-profile placements on numerous television shows, international commercials and movie trailers, simultaneously launching his music career in video games, which he continues to embrace as a cutting-edge and powerful musical voice in modern scoring.
​