Composer, game audio specialist and Game Music Connect co-founder John Broomhall curates and hosts the annual audio day at the Develop Conference in Brighton – the largest gathering of videogame talent in the UK – which attracts developers from all around the world. 
We had the opportunity to chat with him about what took place at Develop:Brighton.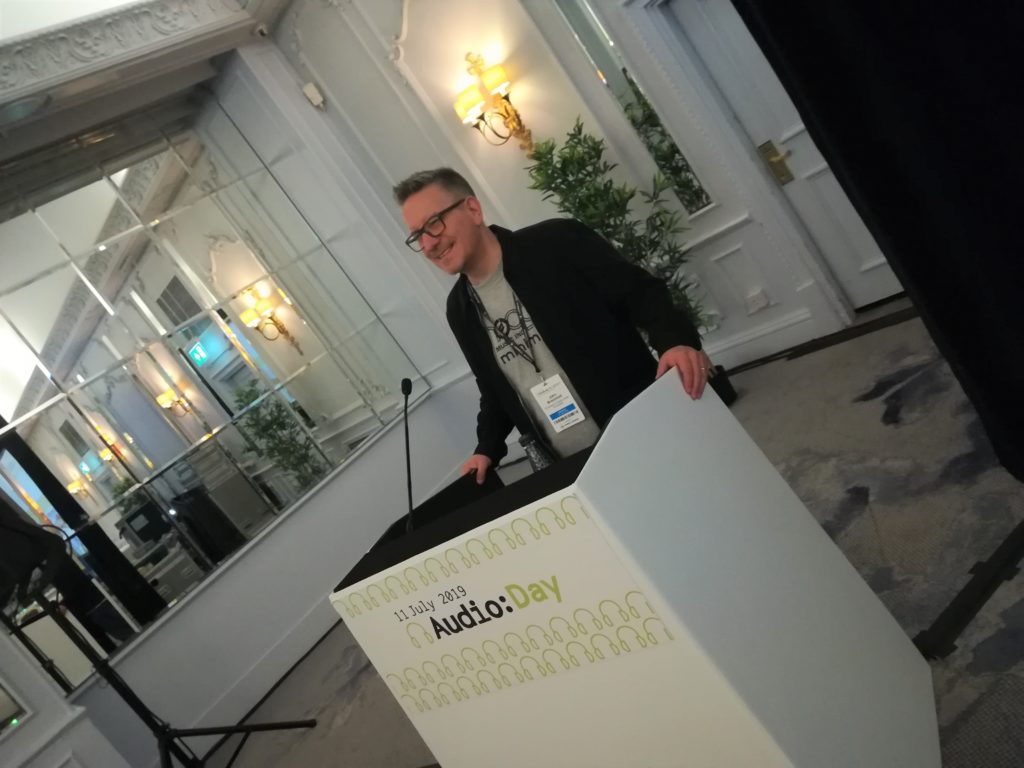 EL: How was Develop Audio Day 2019 for you?
JB: The audio day was one of the best we've ever had – I was really happy with how it went down – informative, thought-provoking and entertaining. We enjoyed another stellar line-up of speakers who delivered for us on many levels. Feedback has been absolutely brilliant so a massive thank you to everyone who took part from around the globe. It was very nice indeed to have representation from some of our top Britsoft companies – in no particular order – Frontier, Rare and Creative Assembly – but we also had folks from wider Europe, the US and Canada, including our keynoter, Rob Bridgett from Eidos Montreal (responsible for music, sound and dialogue on the last Tomb Raider game).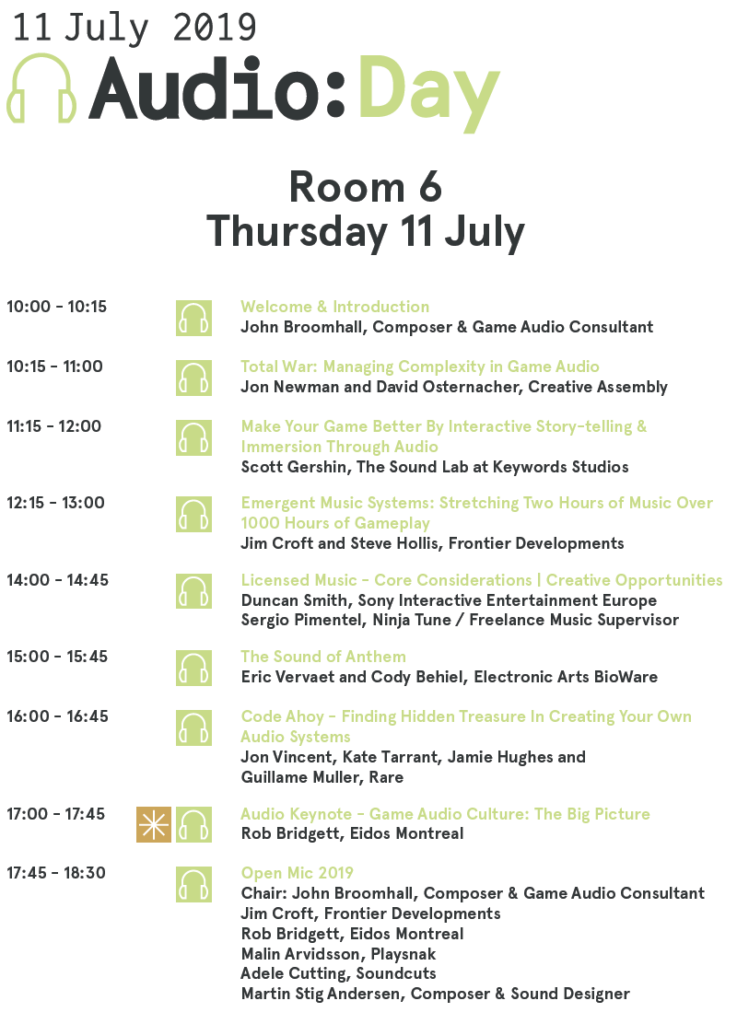 EL: How was attendance?
JB: Pretty much a packed house all day with extra chairs required early on! It's such a good opportunity for audio people, particularly from the UK and Europe, to escape the relative isolation of their recording studios and get together to check out what their peers are up to, hang out and compare notes both at the conference and around it e.g. the customary informal 'VGM' gathering at a local pub the night before – plus GANG's very own post-event barbecue – both awash with audio talent! The community vibe is palpable and so cool. And once again this year, our traditional final moderated panel discussion called 'Open Mic' – a town hall style affair with lots of audience questions and participation over a cold beer or two (courtesy of Audiokinetic) – felt like it could have gone on and on and on. I eventually decided enough was enough 50 minutes over advertised finish time. I felt a little bit guilty to close it down but you could see the hotel staff twitching LOL. I suppose it just shows the appetite people have for talking about game audio and sharing their experiences. Or maybe it's the free beer?!
EL: Any specific thoughts on the programme?
JB: I felt it was very good balance of personalities, presentation styles and topics – everyone did a great job actually – we a saw a lot of excellent 'show and tell' implementation stuff with painstakingly prepared superb, media-rich presentations demonstrating multiple layers of sound design plus some 'prototype to final' sound journeys – the kind of material I think our attendees love – including detailed explorations of dealing with difficult perspective/LOD challenges and extending music content for hours of gameplay not to mention some very entertaining location recording stories and a thought-provoking and highly enjoyable keynote.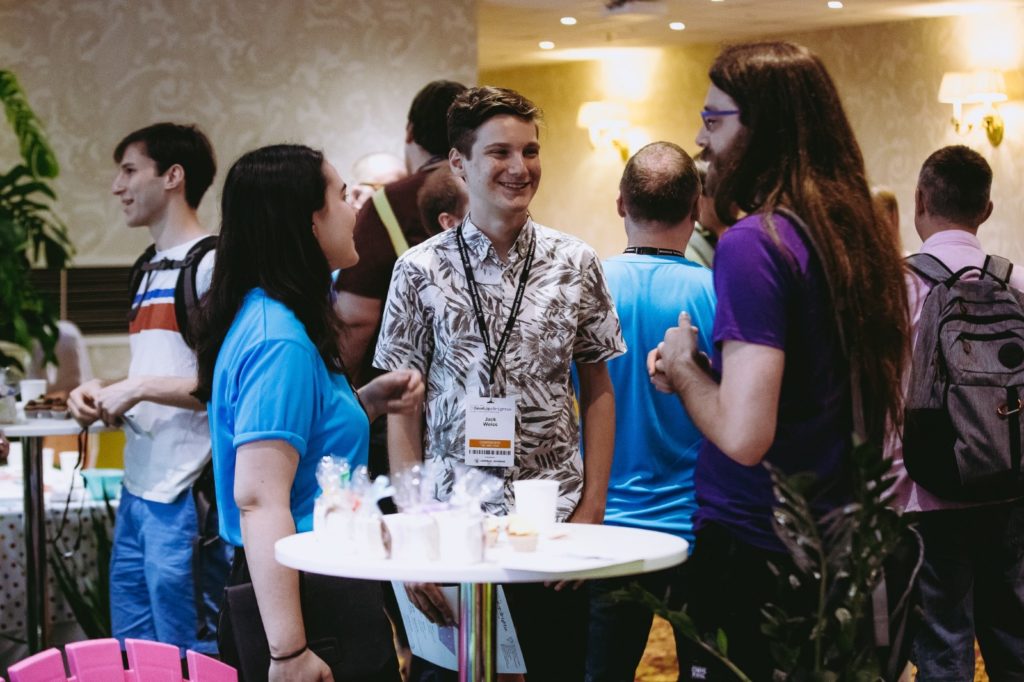 (Center: G.A.N.G. Scholar recipient, Jack Weiss)
EL: How do you source your speakers? 
JB: There's the usual 'call for speakers' for the overall Develop conference but many times, we make personal invitations and source speakers through private channels – we don't have too many speaker session slots so I'm always striving to make sure we push the quality bar and that our sessions have really useful meaning and takeaway. We know what you did is cool, that's why you're here speaking – you don't need to impress us with Abbey Road this and Skywalker that – we want to know your design approach and process – yes your successes for sure, but also what went wrong, how you solved problems, what you learned; in general what universal lessons we can draw from your experiences that will help and inspire us tomorrow on our own projects… (We like nerding out a little also!) With all that in mind, I'm always interested to hear from music/sound/dialogue professionals who feel they have something to say at the Develop Audio Day, so please contact me via my own website.
EL: Among many other things, you're known for some classic game music like Transport Tycoon and the original Xcom – what are you up to now and what's next for you?
JB: Actually I've recently been working again with Julian Gollop, the original Xcom auteur, writing music for his new game Phoenix Point and also co-writing music with Will Morton for Lost Ember. We also have Game Music Connect activity incoming – just got back from Campus Party in Milan, Italy where we ran three sessions on game music and we're doing similar 'Game Music Connect presents:' sessions at the Danish Film School and BIME Pro in Bilbao during October. Any other time available I devote to playing jazz keyboards and developing our EDM/jazz hybrid follow-up to 'String Theory – Modularity' which was released last year by Bradley Zero's Rhythm Section International label. Never a dull moment!