This month we spoke to the G.A.N.G. Scholars chosen to attend GDC in 2017. The G.A.N.G. Scholars Program provides select highly motivated and high-achieving full-time music and sound design or audio programming students who have a passion for interactive audio with free all-access event passes to professional conferences in the video game or audio industries. The scholars are also assigned an industry mentor from the G.A.N.G. Advisory Board or Board of Directors. Read more about the Scholars program here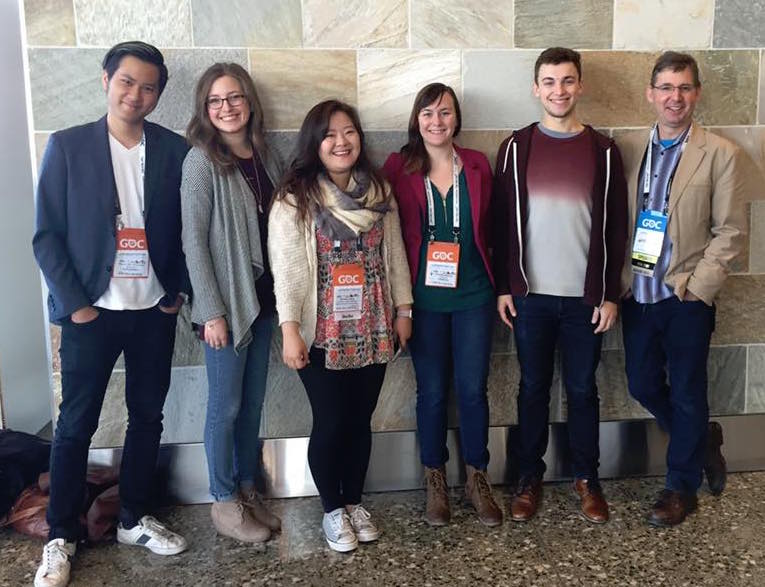 About The Scholars
Katrina Zemrak: I am a graduate student at Columbia College Chicago with a graduation date of May 2017. I am the President and Founder of the California Independent Film Scoring Competition, which is entering its 5th year and is located in San Francisco. I have worked on 40+ films over the past six years composing for various genres and have been working in Wwise and Unity for the past two years.
Max Davidoff-Grey: I'm a composer and producer wh o mainly creates music for picture. Having studied composition at the Purcell School, I'm now finishing my degree at The Guildhall in London, with a focus on electronic music. I'll be moving to LA later this year as I continue trying to establish a career writing for both linear and interactive media. I also enjoy producing standalone music, and am currently working on an album which should be released this summer.
Rachel Robison: Music literally runs in my blood, I sing, play the piano, flute, tenor sax, oboe, and a little bit of guitar and ukulele. I've been involved with music for as long as I can remember, so I've been excited to turn that passion into a career and learn all that I can. I will graduate next spring with three degrees at Salt Lake Community College (AS in Music, AAS in Media Music, and AAS in Music Recording Technology).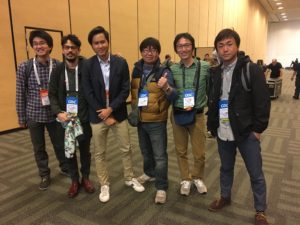 Bill Piyatut: I'm a film/game composer originally from Thailand now residing in Los Angeles. I'm in my last month of completing a master degree in Screen Scoring at University of Southern California.
Shauny (Sion) Jang: I am in my final year of BA in Music and Sound Design program at DigiPen Institute of Technology in Redmond, WA. I am a composer and a sound designer, and I worked on 13 game projects including student games and commercial games. I recently worked at Nintendo Software Technology as an Associate Audio Designer where I worked on Music and Sound Effects for Super Mario Maker for 3DS, and now I am finishing up my degree and graduating this coming May!
First Impressions
Bill Piyatut: As I looked for a way to refresh myself and search for inspiration, I was fortunate to be awarded a GDC all access pass by Game Audio Network Guild. Though I have always been a gamer and a huge admirer of video game composers, my experience with scoring a video game is quite minimal. I've only scored a small number of games as well as some class assignments. So, getting to go to GDC is very exciting to me as it's almost a completely unknown territory that I've never explored — a territory that pokes my curiosity as a creative individual.
My first day there was quite overwhelming. I did not expect to see so many people. I, along with 4 other scholars, met with G.A.N.G.'s president, Brian Schmidt, who made this GDC trip of mine possible. We talked a bit about the feel of the conference, the people, what to do, and some interesting things we should check out. Brian then introduced us to couple of audio folks who were around the area.
Talks
Katrina Zemrak: I believe the talks were extremely helpful, especially for composers and sound designers who are just starting out in the industry. The combination of talks about implementing audio in games as well as how to live a life as an industry professional was very educational and helpful within my own professional and personal life. It gave me a lot of insight as to what may lay ahead and how to accomplish and succeed in a productive and healthy way.
Max Davidoff-Grey: I committed most of my time to the talks on the audio track. They all offered great information, but two panels really stood out for me: 'balancing life as a composer', and 'composer confessions'. Another talk that blew me away was Mick Gordon's on the Doom OST. His presentation focused on the value of changing the creative process. We can all get stuck in our particular grooves, our bag of tricks, and these can sometimes lead to creative ruts. Regardless of whether we are stuck or not though, changing things up here and there is important and ultimately productive.
Bill Piyatut: The talks that inspired me most of all were not the technical ones, but rather philosophical ones like "Composer's Confession" and "Striking the Balance". Both discussed how to maintain a composing career without literally dying first. They highlight the idea that composing is more like a marathon than it is a sprint, that it's okay to slowly improve yourself and not work on too many things at once. Constantly pulling all-nighters can only degrade the quality of my work and my life. This speaks directly to what I mentioned before about being exhausted without any rest for seven years. It almost felt like they were telling me that it was going to be okay and that I don't have to continually overwork myself, inevitably destroying my mental and physical health, ultimately making it harder to achieve my goals instead of advancing them, like I seem to think it will at times.
Shauny Jang: I also enjoyed attending a lot of the audio talks. Some talks that I really wanted to go to were happening at the same time, but having an access to GDC Vault saved me from struggling to choose. One of my favorite talks was Winifred Phillips' talk on 'Homefront' to 'God of War': Using Music to Build Suspense. Her research reports on how certain sounds are related scientifically to how we feel was very fascinating.
Events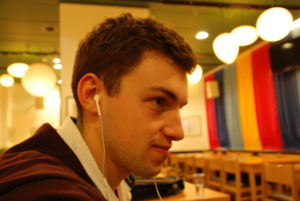 Max Davidoff-Grey: The events on either side of the talks themselves were a lot of fun. The days could get very long but it was always worth it. Although the audio-related things were always great, I wanted to also spend time at some of the wholly game-orientated events. I enjoyed some helpful talks on the topic of narrative – such a central principle behind what we try to do as composers. The Expo halls were full of content to explore. I had fun playing a few different games – from indie to AAA – and I had good conversa- tions at the booths hosted by audio companies such as Wwise and Fmod. I learnt so much about the middleware side of things over the week, and am looking forward to delving more deeply into this ever-growing domain.
Katrina Zemrak: I also thoroughly enjoyed the networking events that were held after the talks throughout the day. I feel like the most connections I gained were during these networking events. The Expo was also a great place to make connections and meet new people as well. Being a big networker, I found these events were a great way to relax after a long day of sitting through talks and gave everyone a chance to have common topics to discuss. I found after a day of sitting through talks I was a lot more capable of discussing the implementation of audio and programming in general to other audio as well as programming professionals.
Bill Piyatut: Speaking of networking, so many people have taken the word "network" as a very professional and business activity, which is fair, but without having any meaningful conversations, so many people at GDC gave me business cards and just left. In my first day, I also did a lot of that as I felt the pressure to connect with as many people as possible. However, I found it to be a much more fruitful experience once I learned to approach it from a friend-making perspective. This made it much less stressful; I finally noticed that it's not about getting jobs, but rather about sharing experiences and building relationships. If these friendships lead to jobs, then great! If not, I still will be staying in touch and wishing them the best in the industry.
The Game Audio Community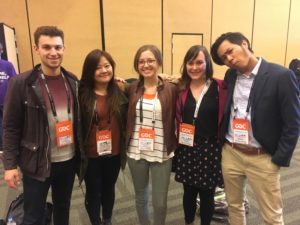 Max Davidoff-Grey: First and foremost I think it's important to mention the group of people as as a whole. Flying out from London on my own and not knowing anybody at the other end was slightly daunting, but I was received by a very warm bunch and quickly felt comfortable! It became clear over the week that this game-audio community is very much a family. I could see close friendships between people at the highest level of the audio profession, and this is not the case in some other industries. Witnessing this was as inspiring for me as some of the actual seminars. In this vein, I'm so glad to have started some great new friendships – with people my age but also with more experienced members of the community.
Bill Piyatut: Very quickly, I felt a sense of family and the welcoming feeling that I didn't quite experience in the film industry. It seems like GDC brings people together who are not only passionate about what their profession, but are wanting to share it with others.
Shauny Jang: One of the things that I was really impressed with was that the game audio community is so warm, welcoming, and encouraging. There were a lot of people like me who are graduating soon and starting their career, and we became friends and helped each other during GDC. People who are very active and successful in the industry also did not look down on anyone, but they were all very welcoming and embracing.
G.A.N.G. Award Show
Bill Piyatut: On Thursday night, I got to attend the 15th annual G.A.N.G. awards. The award show itself was of course amazing and very entertaining throughout, but what was so inspiring to me was seeing smaller games, composers, and sound designers get noticed with nominations and awards they got in categories like "Best Audio for an Indie Game" or "Best Rookie" or "Best Handheld Audio". It shows me that the game industry is always welcoming new faces and new approaches to game audio even in the smallest level. And of course, the after party is the best part. I was able to meet/chat with many of my idols as well as other industry professionals that I admire.
Max Davidoff-Grey: It was a special experience to attend the G.A.N.G. awards night for the first time. The presentation was exciting and moving, and it was awesome to see the space packed out as the awards were announced.
Mentors
Max Davidoff-Grey: As part of the scholarship program we're lucky to have some sessions with a mentor during the week. I felt so privileged to spend time chatting with the amazing Austin Wintory – someone who I already admired enormously, but who over the course of our conversations inspired and motivated me so so much. Austin seems to have an endless pool of wisdom to draw from, and I threw a fairly endless stream of questions at him! I'm still absorbing and reflecting on the things we covered.
Katrina Zemrak: Having a mentor supplied to me during the conference was also a great experience. I was able to meet up with Richard Ludlow from Hexany Audio as well as some of his co-workers and discuss their studio process as well as who they look for to hire. It was rather interesting, because Richard is the audio director and owner of the company, I got to hear about his process running the company, but I also got to talk to some of his composers about their composition process and how they implement it into Wwise and other programs.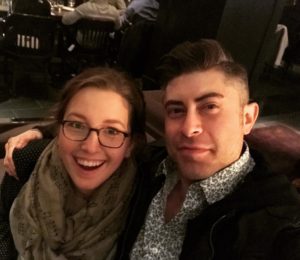 Rachel Robison: I felt very fortunate to have had Adam Gubman as my mentor and for all the inspiring advice he was willing to share with me. From composing techniques to industry do's and don'ts, I learned so much from him and highly value his mentorship! You can't get this kind of first-hand education anywhere else.
Shauny Jang: My mentor was Penka Kouneva, who is not only an amazing composer who worked on a lot of huge movies and games but also a warm-hearted wonderful person. She is Bulgarian, and she came to the U.S. to study music. I am also a student from a foreign country who came to the U.S. to pursue my dreams, so she gave me a lot of advice on how I can continue pursuing my dreams here. She gave me questions about myself so that she knows what kind of person I am and what I am passionate about. We met several times during the conference and talked about what I should focus on and who I should connect with. Having her as a mentor was a huge benefit for me, and because of her I had clearer goals of what I want to achieve in my career life and what I need to make it possible.
Closing Notes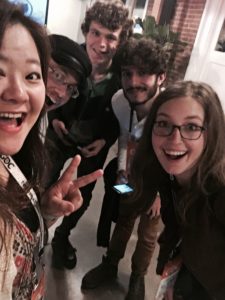 Max Davidoff-Grey: It's difficult to summarise how much I've taken away from the conference, and how much it has to offer everyone. In that short period of time I learnt so much on such a wide spectrum, and at the same time I had tons of fun. Working as a composer can be somewhat solitary, so it's wonderful to have a week full of socialising – with people very similar to you as well as people who offer a pleasantly different angle on things. I think this social aspect gives people such joy who return each year to see friendly faces. As Austin said, it has become a kind of 'pilgrimage' for him. I hope I can make it a similar regularity for myself. You are only really able to scratch away at certain segments of the conference, and I'm sure that with each successive time you can paint a slightly fuller picture.
A week like GDC gives you a real sense of perspective – on the industry as a whole, on music (both technically and more philosophically), on life, on yourself, and on your position within it all. This can be a little daunting on the return to normality, but is wonderfully motivating and has re- inforced my deepest aspirations. I'm delighted to have started some new and great friendships with some truly special people. I can't wait to attend GDC again next year, and hopefully many more after that. I'd like to once again give my most heartfelt thanks to the people at both the G.A.N.G. and GDC for making this incredible experience possible for me. It feels like a big step on an exciting path, which leads towards some of my strongest ambitions.
Katrina Zemrak: I'd like to thank the Game Audio Network Guild for supplying such an inspirational and educational opportunity to students like myself that are interested in the game industry. Without opportunities like this, students wouldn't get a chance to experience the industry and wouldn't be able to discuss and gain knowledge on the professional and personal life of an industry professional.
Rachel Robison: It was truly an honor to attend GDC 2017 as a G.A.N.G. Scholar. You can't put a price tag on how valuable an experience this was for me! My dreams are now tangible because I had a front row seat to see how this industry works. The talks and panels were so inspirational and motivational, I can't wait to apply every single thing.
I said almost every day during the conference that, "I would not have been able to come to GDC without the Scholars Program" and I won't stop saying that because it is most definitely true! I was blown away by how welcoming and inclusive everyone was! I should also mention how wonderful it is to be around so many people that advocate for me as a woman in game audio. It meant the world to meet and know people that genuinely want to help me succeed. I feel that I have found a support system and a family through the Game Audio community and being selected as a G.A.N.G. Scholar reiterated that. Now I can't get enough of it! I honestly can't thank the Game Audio Network Guild enough for this unforgettable, life-changing opportunity. I enthusiastically recommend applying for the G.A.N.G. Scholars Program!
Bill Piyatut: All in all, GDC got me hooked to the game industry and immediately pulled me in in a welcoming way. It also reignited to fire in me to start writing creatively without being afraid to push boundaries, think outside of the box, and collaborate to get a unique, satisfying result in my work. I met many great new friends, potential collaborators, and industry veterans who are quickly becoming easily became inspirations of mine. I would never trade this experience for anything and I can't wait to be back at GDC18!
Shauny Jang: It was a huge honor to be a G.A.N.G. Scholar for GDC 2017. It is a great program for students who are pursuing game audio. Being a full time student makes it hard to have enough budget to make a trip down to San Francisco and also pay for the pass. This program enables students who are very passionate about game audio to have a chance to learn what is going on in the industry and connect with people who they will be working with in the same industry. I highly value this opportunity, and I want to thank you everyone in G.A.N.G. who made this possible. This unforgettable experience helped me expand my view and perspective and have clearer goals for my future career.