This month we interviewed Bonnie Bogovich, Audio Lead at Schell Games LLC in Pittsburgh, PA. We spoke about working inside a game company, audio for virtual reality and advice on landing a job at a company.
Read the full interview below!
RS: What's your background in game audio?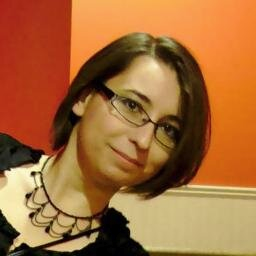 BB: I have one of those swirly and windy career backgrounds that eventually led me into fulltime game audio career. Some folks have heard me say "Zombies got me into where I am now". Say what?  Well, while in school and college I studied music technology (BA) and multimedia (MS), though I always had something going on in the theater tech world, working as a stage manager, and multimedia video artist for a variety of companies.  After graduating I kept up my theater work while doing lots of video and sound design for museum exhibits, independent films, software companies and eventually started to pick up some video games along the way. On the side I started writing a musical project with Liz Rishel, one of my close friends from school. We developed a multimedia hybrid live performance, "Evenings in Quarantine; The Zombie Opera", and it turned into an elaborate adventure, grant funded and our pool of filmed and stage extras came from all over the Pittsburgh area, many of whom were employees at Schell Games.  After the Zombie Opera premiered, the audio position opened up at Schell and I had folks on the inside encouraging me to apply. I did, and that is how my 'career' as a full time video game audio person began. I'll have been at Schell Games 5 years this coming March:)
RS: What are you currently working on?
BB: Unfortunately many of the projects we are currently working on at Schell Games are under NDA (Non Disclosure Agreement) but I can say that we are expanding work on our Oculus VR game "I Expect You To Die" for both Oculus Rift as well as adding Touch ("hands") support, we are working on an educational chemistry app/toy "Happy Atoms", and I am very excited to publicly announce that our tardigrade puzzle game "WaterBears", currently on ios and android, is being adapted into an upcoming experience for the Vive!

Outside of Schell Games, I am one of the sound designers on the upcoming Homestuck Adventure Game, aka "Hiveswap".  In the fan music realm I contributed on three tracks of the recently released "Materia: Final Fantasy VII Remixed" album, and we just released the music video for my arrangement of "Waltz de Chocobo" featuring The Bwak Choir (I arrranged the music for Muppet-style chicken chorus). My parody opera project "Super Smash Opera", a mashup of Nintendo characters and classical opera tunes, is getting prepared to showcase its latest rendition, with a 'community' orchestra of 40 people, at the upcoming MAGfest in Feb 2016 (application pending!)

RS: Working as the lead of a two person audio team at Schell Games, what does your average work day consist of?

BB: At Schell Games we usually have at least 4 different projects going on simultaneously, so days can differ greatly. Because of this one of the most important meetings I attend weekly is an audio schedule update with the VP of Art (Audio is under the Art umbrella at our studio) and an Art Manager during which we review how things are currently going and plan as best we can the upcoming weeks of projects and their needs and analyze how best to divide and conquer between myself and Tim Rosko (who joined our ranks this year, upping our audio department from one to two members!) The rest of the week is steered based on what is discussed in that meeting. In general mornings are usually spent in scrums (daily task reports) for the project I am currently on and/or any relevant scrums for projects I will be on later that week or upcoming, art team and/or design team meetings, retrospectives (semi-frequent recaps on what went wrong/what went right), team demos and playthroughs, review and report sessions, and if it's a slow meeting morning, working on actual audio. Tasks of the day can be a variety of different things: sound effect and environmental audio design, voice over recording and direction, music composition, foley recording, asset implementation, and more. With lots of things in motion, and a variety of needs per project, it's very important to keep a clear channel of communication and stay on top of discussions relevant to audio through slack, google chat, attending meetings, and making sure to take well timed walk-away-from-desk stretches when impromptu design-changing chats seem to be happening:)

RS: At GameSoundCon you were one of the "Speed Mentors". Were there any common themes amongst those looking for advice? Any general advice you gave to all of them or is there any advice for those looking to find an audio position in a company?

BB: I greatly enjoyed being one of the Speed Mentors this year at GameSoundCon. It was so nice to hear from a variety of sound designers and musicians and talk with them about where they are and where they hoped to be in the future.  Yes, there were some common themes that came up during SM as well as some questions that also came up at the AES "Careers in Game Audio" panel I was on at AES NYC the weekend before. Here are some of the top ones that come to mind:
-When sending in a resume to a company, always try to include a personalized cover letter whenever possible, and make sure to link any audio or video samples you have to show your best work. Did you meet the person you are reaching out to at a conference or event, and if so did any specific discussion or things in common come up? Bring those up to help refresh that connection.
-If you have technical skills, or the desire and ability to learn new technology and software quickly, make sure to list that. Knowing how to implement audio into the game makes you way more valuable to a company than just knowing how to play piano or do foley. In smaller companies you may have to wear many hats; show you are willing to do so.
-Being a team player is something I cannot stress enough. How do you learn to do that or show you can work with a team? If you are not currently working on a game with someone, seek out opportunities to do so. There is a growing trend for events called "Game Jams" where people compete in making a game in a short amount of time. I recommend going to a mixer before an event, or being there on day one, and making it known you are a composer/sound designer looking for a project. Also, don't rule out non-game experiences. Working on a film, or play, etc can give you the same skillsets that help you later on, asset tracking, schedule and file management, and that great feeling of a job well done after everything wraps.
-If you send in a resume through the system, or to an individual, it is good to check in once in awhile if you have not heard back, but avoid 'hounding' the contact and coming off as aggressive. In this industry it pays to be professional, polite, and understanding of other people's time.
-If you are not used to working with spreadsheets, word docs, and presentations, start learning now. Data management is critical and knowing your way around cells and a magical term 'conditional formatting' will save you hours of headaches.
We are currently living in an amazing time, the internet through Facebook, Youtube, and more have made software and industry knowledge very affordable, and often FREE, so there is less of an excuse of 'well, I don't know how to use ___". I highly recommend checking out one of the many game audio facebook groups that are out there, tagging #gameaudio on Twitter with questions, and researching and attending events like GameSoundCon, GDC (audio track) and Indiecade to meet fellow gamers and developers to talk shop. Lots of conversations happen on the internet but the magic of getting out to the events is you can keep those meetings going face to face, and often that can lead to a future business relationship!

RS: Schell Games was recently working on the virtual reality game I Expect You To Die, what was your experience like working on a VR game? How different was it working on a VR game to past projects?

BB: Working on I Expect You To Die has been super fun in that there was a wide variety of audio usage in the game, from interacting with throwable objects, to Easter Egg voicemail messages through the car stereo, environmental changes, cheesy spy stinger music cues and narrator guidance in your head through your 'earpiece'. It was very different from other games in that we had to be very careful on audio source placement, surface collision sounds, providing a system to allow for audio variety on collidable objects (fluctuation based on velocity, surface type, etc), and finding a balance between normal expected audio feedback with vo, sfx, and stinger cues.  One thing we learned is you should try to play inside the vr environment with the full headset etc as much as possible, otherwise it's really hard to gauge if things 'feel right'.  Also making sure to maintain a clear communication pipeline between yourself and the tech and design teams is critical, so there is no confusion expectations versus software or  hardware limitations.

For a detailed article on lessons we learned as a project team while working on IEYTD, I recommend checking out this writeup by my boss Jesse Schell on Gamasutra

RS: Any final advice or comments?

BB: Game audio people are some of the most friendly and welcoming folks you can ever know. I highly recommend anyone who has an interest in game audio or currently trying to break into the industry to start attending events like GameSoundCon, GDC (the Audio Track), and MAGfest.  Some of the best connections leading to future projects you can ever make come from face to face conversations. Also, even though you may be focused on working in game audio, or currently working in game audio, make sure to save time to hone your craft and flex your music and sound design skills outside of 'work'.  If you're a singer, community theater, opera, or choir is a great way to keep those pipes healthy. Play an instrument? Being in a band, orchestra, or ensemble is great too. Remember, again, keeping social is healthy, and it never hurts to build long lasting artistic relationships with fellow musicians.
—————————————————-
For more information about Bonnie Bogovich and her work at Schell Games, Zombie Opera, Super Smash Opera, and other projects, visit her online at:
http://www.blackcatbonifide.com