The Imperial Palette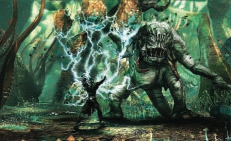 STAR WARS: THE FORCE UNLEASHED. 
FEW FRANCHISES IN THE WORLDS OF film and games have sounds more iconic than those of Star Wars. Ben Burtt's sound design for the original films relied heavily on his portable Nagra recorder, an ARP 2600 synthesizer, and creatively processing myriad human and animal vocalizations. Thirty-one years on, this galaxy far, far away is still vibrant with new stories, new characters, and new locations—all of which need new sounds.
In 2008, analog tape is a thing of the past, and analog synthesizers have been replaced by soft synth plug-ins. In order to get a sense of what is at the core of the Star Wars sound palette today, I asked my coworkers in the audio team behind STAR WARS: THE FORCE UNLEASHED—audio lead David Collins and sound designers Brian Tibbetts and Tom Bible—to share with me some of their favorite tools used to score Jedi, Jawas, and the Junk Titans of Raxus Prime.
A NEW DIGITAL HOPE
With an ever-expanding galaxy demanding sonic attention, the sound designers of STAR WARS: THE FORCE UNLEASHED have fully embraced the tools of the digital age. Most of these tools are software-centric. Besides mainstays like Pro Tools, Peak, and Sound Forge, the team also uses a variety of other digital audio workstations. David Collins likes to use Logic Pro because of the EXS-24 Software Sampler bundled with Logic out of the box. "I use the EXS-24 like Ben Burtt used a Synclavier," says Collins. For the jungle-dwelling Felucian warriors, Collins "designed dozens of vocalizations, loaded them all into the EXS-24, and literally played the sounds back like sentences."
Tom Bible, on the other hand, is a big fan of Sony Vegas. "I do most of my sound design in Vegas these days," reveals Bible. "I can edit nondestructively. So if I need more variations on a sound I've already designed, I can go back to the session and create new sounds using the same palette easily."
Many of the new sounds come from experimenting with combinations of soft synth plug-ins. Brian Tibbetts is a devoted fan of both U&I Software's Metasynth and the Access Virus Indigo TDM plug-in for Pro Tools. However, despite starting from a purely synthesized sound source, there's a fine aesthetic line to which the designers adhere. "It's all about keeping the sci-fi weirdness under control," says Tibbetts. "We strive to keep it subtle, especially for assets the player will hear frequently. Too Star Trek– or Doctor Who-sounding is always a bad thing in the world of Star Wars."
RETURN OF THE HYPERCARDIOID
Much like Ben Burtt's work, there is still a hefty amount of design work that comes from manipulating source recordings. From hand-cutting individual droid servo motors into cutscenes to fleshing out a palette of destructive Force power sounds, sound design elements come from a wide variety of sources and go through a wide variety of processes before they end up in-game. For David Collins, one of the most valuable tools
in his arsenal is Serato's Pitch 'n Time Pro. According to Collins, "Pitch 'n Time
is a fantastic plug-in for pitch shifting, crazy pitch bends over time, and time stretching. It's all about chasing the sound that I'm imagining in my head, and this is a valuable tool for sculpting how a sound plays back."
Capturing source sounds is a different matter entirely. Many of the assets from the original Star Wars films are saturated with analog tape hiss, audible edit points, and occasional distortion. All of the new assets designed by THE FORCE UNLEASHED audio team, on the other hand, are being recorded, manipulated, and mixed digitally.
As the name implies, the game is focused on the destructive potential of The Force. As such, Tom Bible has spent much of his design work infusing force powers with jet fly-bys, explosions, and thunder. "In order for a sound to fit into a sci-fi or fantasy world, it needs to have some sort of 'realness' to it in a way that synthesized sounds don't," explains Bible. "I find that elements of these types of sounds, when combined with the less realistic synth sounds, add realism and size to the new sound." It was this need for realistic source material that led Bible and sound assistant Jason Clark out onto the roof of LucasArts' San Francisco campus in late August to record close proximity pass-bys of the US Navy's Blue Angel stunt pilots as they rehearsed for a Labor Day air show. Accompanying Bible and Clark was the audio department's Fostex FR-2 field recorder and a Sennheiser MKH418-S shotgun microphone and windscreen.
When speaking of microphones, Collins reminds me that "great microphones capture great sounds in the studio," a rule the audio designers adhered to in all situations. Throughout the project, the team used a suite of Neumann U 87s, M 149s, and TLM 170s in order to record everything from Tibetan prayer bowls, to droid body falls, to the performances of the game's actors.
While the tools have changed, the principles behind designing sound for a space opera remain the same. By approaching modern audio technology from the same mindset Ben Burtt used to score the original films, the current designers of Star Wars audio are ensuring that their new work can fit comfortably alongside a canon of 30- year-old laser blasts and droid chirps.