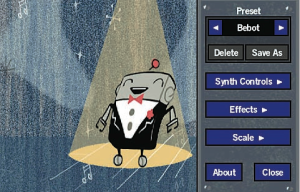 The cute and silly Bebot synthesizer
Apps To Make Apps
APPLE'S IPHONE HAS SPARKED a revolution in cellular phone technology. Touch screen smartphones combined with an open and active development community have become the new software gold rush. For game developers, the iPhone rapidly showed itself to be a viable gaming platform.
Like PCs, the iPhone and iPod touch differ greatly from traditional game consoles in one major way: instead of simply being an end- point game platform, the iPhone is also a development platform. While game developers have been shrinking their console titles to the iPhone's touchscreen, app developers have been busy creating a vast number of tools that audio professionals can use to create content and assist production—and not just for Apple platforms either. With the launch of the iPad, the same pool of apps is now available for tablet computing.
THE HARD STUFF
» One of the most interesting shifts the app revolution has brought is the move to create software replacements for traditionally hardware-based external tools such as guitar tuners and metronomes. When I asked audio professionals which apps they were using, the most common reply was Voice Memos, a Dictaphone replacement that comes standard on the iPhone. Across
the industry, audio professionals are using Voice Memos to capture melodies, thoughts, and sketches. With the ability to edit and email recordings, some are even using Voice Memos as a basic field recorder. For those looking for a more substantial field recorder, a number of full- featured recording apps are available such as Audiofile Engineering's FiRe and iProRecorder from BIAS.
The combination of touchscreen and microphone has led to the convergence of what used to be many separate tools into collected app suites. Agile Partners' Guitar Toolkit is a great example. Guitar Toolkit offers users a guitar tuner, a metronome, and a smart library of guitar chords and scales plus the ability to add custom tunings. IK Multimedia's Amplitube, as another example, is an all-in-one collection of 11 guitar stomp boxes, 5 amps, 5 cabinets, and 2 microphones.
But guitars aren't the limit of audio apps. From SPL meters like Faber Acoustical's SoundMeter to SEB's RT reverberation timer, the diversity of the once hardware-only tools now represented by software apps continues to grow by the month.
THE SOFT SELL
» By far, the majority of audio apps available are software utilities specifically designed to assist in production and content creation. There are hundreds of these apps that make sounds, collect and arrange sounds, or simply help make your audio job easier.
When it comes to making sounds, the iPhone and iPad have a rich palette of soft synths, emulators, and noise generators. There are acoustic instrument emulators like Peterb's Virtuoso Piano. There are vintage synth emulators like Yonac's megaSynth which allow you to sculpt synth textures and extract the sounds as WAV files. There are even oddball apps like Normalware's cartoon-driven Bebot which is part tone generator, part ribbon controller, and adds an unpredictable—yet undeniably fun— approach to sound design.
While the app store is dominated by smaller developers and hobbyist programmers, even the big boys of software emulation are diving in. In June, Propellerhead Software rereleased its seminal classic Rebirth synth application for the iPhone and iPad. Rebirth returns with its full functionality from the original application, including access to all the user-generated mods which were such a vibrant part of the original Propellerhead community.
Beyond simply being a sound emulator, apps can also transform the iPhone and iPad into audio workstations. For a paltry $10, a number of digital audio workstations (DAWs) are offered. Harmonicdog's MultiTrack DAW presents users with a suite of multitrack mixing and editing tools, though it lacks the MIDI functionality that one would expect. Additionally, INTUA offers BeatMaker, which has a suite of sampling and sequencing tools, though INTUA describes it as "ideally suited for live performances." While neither of these options will replace your Pro Tools HD rig, they may offer DAW options for audio pros on the go.
Speaking of Pro Tools, the iPad and iPhone can also function as remote controls for professional DAWs. Far Out Labs' ProRemote turns the iPhone and iPad into a control surface that links directly to Pro Tools, Logic, and Ableton Live. As the name implies, ProRemote is a Mac-oriented remote control with fader interactivity, pan control, solo, and mute buttons, plus transport controls and time display. Far Out Labs claims to "unofficially" also support Digital Performer and Cubase. Cubase users already have access to Steinberg's own Cubase iC, a free control surface solely for use with Cubase.
Lastly, there are the myriad small apps that simply help audio professionals to do their jobs whenever and wherever they want. There are dozens of PDF readers like LLC's Aji Annotate PDF that can be used to replace printed scripts with tablet displays. WattenEarth's time:calc is a calculator specifically formatted for math functions dealing with hours, minutes, and seconds. As a music supervisor, I've even found a mainstream app like Pandora Media's Pandora Radio can be essential when searching for inspiration or music to license.
In a world of software and media convergence, the App Store is at the forefront of changing the way we define our audio tools. With the rising influence of additional platforms like Google's Android, the next few years promise to be a time of ever-increasing invention and innovation.