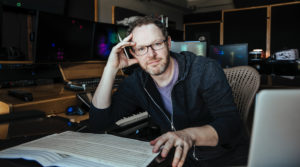 We had the opportunity to interview Gordy Haab, who recently won the ASCAP Composer's Choice Award for "Video Game Score of the Year " for his work on 'Star Wars: Battlefront II'. In our interview, he chats about his passion for 'Star Wars', his journey as a composer, and what it's like creating music for such an iconic franchise.
EL: How has Star Wars been a part of your life prior to contributing work to the franchise, and how would you say it impacted your work on the games?
GH: It's the first film I can recall seeing in my life, and has had such a huge impact on me. It has been my favorite film franchise for as long as I can remember, so I'd say it's heavily impacted my work on the games. I was obsessed with the music in the films long before I knew anything about music. In fact, I would even make up instrument names since I didn't know better. The "Tam-Tam" crash that you hear as Darth Vader bursts through the door for his first appearance—I called that sound a "bong." I was five, maybe six at the time.
EL: You are no stranger to writing music for the 'Star Wars' franchise. Could you share with us your history composing 19+ hours of music for various 'Star Wars' video games?
GH: As mentioned, 'Star Wars' was and is my favorite series of films, so it was always my dream to get to write music for anything Star Wars related. I found my first opportunity in the form of a short, fan-made film called "Ryan vs. Dorkman 2".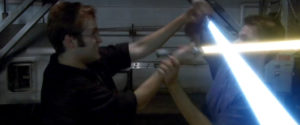 The film was a four-minute long lightsaber battle between two dorks in their street clothes. And it was epic! Some folks at LucasArts had seen it and liked the score. Which lead to my first video game scoring assignment, which was for "Indiana Jones and the Staff of Kings." And that lead to my work on 'Star Wars: The Old Republic.' And so on, and so on.
EL: What is it like creating new themes to live amongst other iconic themes? In what ways did you stay true to the timbre of 'Star Wars' while utilizing your own unique voice?
GH: It's a lot of fun. Because it's my opportunity to put my own stamp on my favorite fictional universe. Right from the beginning, I set out to write completely original music—not using any existing themes or music from John Williams—since they were going to use tracks from the original scores anyway. But the new score still needed to fit alongside those tracks. So I saw two possibilities to accomplish this. One, imitate the music from the films. Or two, have the new music be inspired by the old.
I chose to be inspired by the original scores and have always equated this approach to creating my own, completely original abstract paintings, but simply using the same colors on my palate as John Williams.
EL: Can you take me through your process of working on 'Battlefront II'? What were the initial meetings like? What is it like working with your team? What kind of trials do you face (deadlines, creative roadblocks, other obstacles) during your time working on the score?
GH: I already had the confidence of DICE, having worked on 'Battlefront I.' But 'Battlefront II' involved the full force of two additional developers. So there were many meetings in the beginning to discuss the general direction, characters, the role of music, and how the music would be interactive. While there are many people on my team helping me create a score that can live up to John Williams' scores, my core team is just three people: Sam Smythe, Marco Valerio Antonini, and me. Sam and Marco make it possible for me to compose and orchestrate the scores entirely using pencil and paper, by helping create synthesised mockups for EA, Lucasfilm, Disney, and John Williams to approve prior to recording. Additionally, they pick up every possible task imaginable – like creating schedules and spreadsheets, taking notes at the recording sessions, and writing some really great additional music – so I can focus on what I do best.
EL: What were some of your creative motivations and influences when working on the music for 'Battlefront II'?
GH: Obviously, John Williams' original score has a huge influence on the music of 'Battlefront II.' But I also drew a lot of inspiration from the composers who inspired him.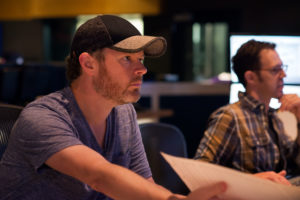 And beyond that, I was listening to composers of the neo-romantic movement during this time as well. During the schedule for scoring the first and second 'Battlefront,' I was also scoring 'Halo Wars 2.' And my score for this game drew inspiration from the neo-romantic era. I consciously allowed it to crossover into my 'Star Wars' scores as well.
EL: With the amount of original 'Star Wars' music you've written, you've been hailed as John Williams' "heir apparent (Billboard 5-31-18)". Should you score a future 'Star Wars' film, what lessons would you take from the game industry to the film industry?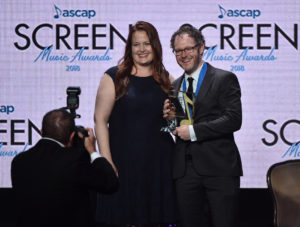 GH: With all of the 'Star Wars' game projects I've scored, there has been a massive amount of oversight from the studios. It's quite a bit of pressure. And as mentioned before, even John Williams gets to take a listen during the approval process. In addition to this, I'm always hyper-aware of the Star Wars fan base and their high expectations. In the beginning this was daunting, but I've become very accustomed to it now and actually draw motivation from it. I'm pretty sure this would be a huge asset if (when!) I have the opportunity to work on one of the films.
Not too many composers can say they've experienced firsthand the firepower of the fully armed and operational 'Star Wars' fan base, and also the Lucasfilm and Disney franchise executives.
EL: Of all of the various 'Star Wars' movies out there (yes, we'll include the Christmas special), which one is your favorite?
GH: Obviously the Christmas special. It's an example of filmmaking mastery and top-notch acting, only rivaled by 'Phantom Menace.' Yeah, I'm kidding. 'Empire Strikes Back.'
EL: Bonus question—what is your whiskey of choice?
GH: Is there a word limit on this interview? In my studio have a collection of over 300 bottles of whiskey from around the world (and by world I mostly mean Scotland and Kentucky). I occasionally draw inspiration from them as well. Pappy Van Winkle is the best bourbon I've ever had, simply because it's impossible to find and thus, I want it more. So, if anyone is looking to give me a good gift. Just saying!