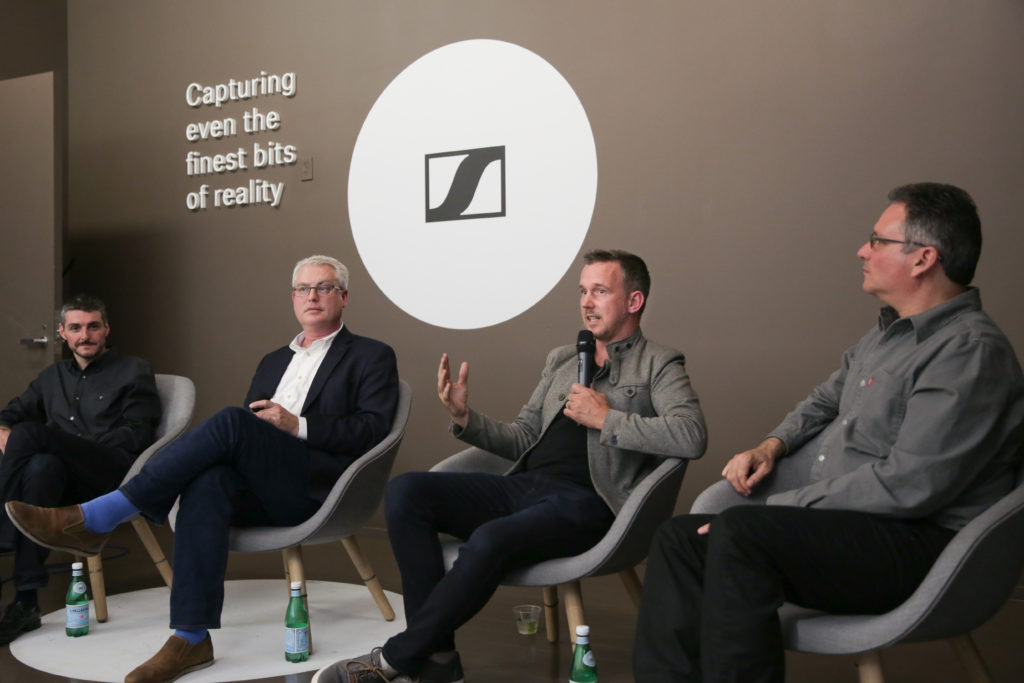 Sennheiser recently had the opportunity to host an event focusing on its role in audio for film and animation. Matt Levine, member of G.A.N.G. and a professor at the San Francisco Conservatory of Music, joined the panel. We had the chance to talk with Sennheiser to get some insight into their recent developments for the game audio industry.
EL: What makes Sennheiser a leading technology for use in game audio?
SEN: Sennheiser is the only audio company that makes both the precision microphone equipment that games are recorded on, and the headsets used to play them. Therefore, we are in a privileged position to understand the needs of audio developers and how to best render their composition to the ears of gamers. For example, we packed the Sennheiser GSX 1200 PRO Gaming Audio Amplifier with our Sennheiser Binaural Engine to create an outstanding sense of immersion for gamers that would not get in the way of the intended audio crafted by the designers of the game.
EL: With the rise of VR and AR, where is Sennheiser working toward taking the world of spatial audio?
SEN: VR and AR are fantastic showcases for spatial audio since without it the illusion and immersion break. The 360 degree soundfield also proves to be a useful cue to orient the users and trigger their attention to augment the limited field of view of current AR glasses. Tools to record and mix immersive audio for these experiences is a growing field in which we have entered with the AMBEO VR mic, the AMBEO Smart Headset and just now with the AMBEO AR One designed to ease the work of sound designers crafting mixed reality experiences.
On the listening side, we believe Sennheiser has a unique place to play in keeping the listeners connected with their environment during their VR/AR experiences. This makes social VR possible for example, or enables a seamless blend between the real acoustic world and virtual audio for mixed reality. Our Transparent Hearing technology has been optimized to let the outside sound blend-in naturally, almost as if you had no headphones on, and in the products offering it we provide control for the users to decide how much of the outside they want to hear.
EL: What is the AMBEO Augmented Audio Developers Program, and how can people get involved in its progression?
SEN: AMBEO Augmented Audio is about tools enabling sound to enhance human functions and to improve our interaction with the world around us. We envision Augmented Audio to be experienced through wearable listening devices, and we see it as the audio component for the emerging fields of AR/MR and not only. With the Developers Program, we have invited creators to pioneer augmented reality experiences on iOS devices with the Sennheiser AMBEO Smart Headset featuring Transparent Hearing, with our prototype head-tracker and with the AMBEO 3D binaural audio software library. The program is now on-going, and the visionaries who signed-up for it are presenting their thoughts on Augmented Audio here: http://sennheiser-ambeo.com/community/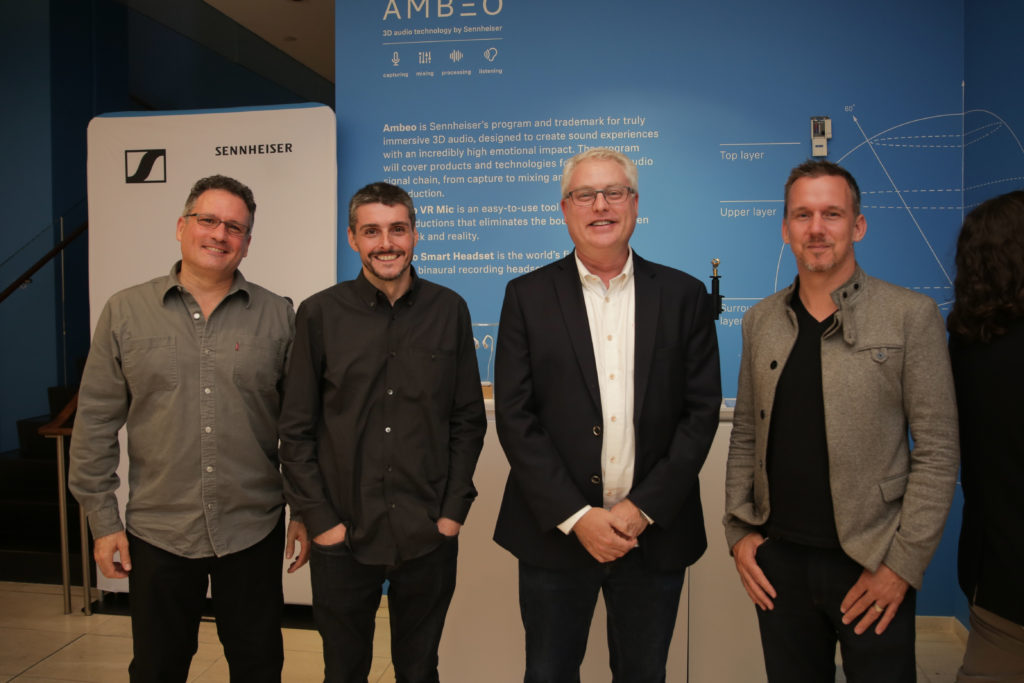 EL: What are some of your latest products, and what are their capabilities?
SEN: Binaural audio is a powerful medium to convey emotions and, more specifically to gaming, to increase performance – for example, in first-person shooter games where speed to localize objects matters. For gamers using headphones, this should be the rendering of choice when available. The AMBEO VR mic is a very versatile microphone to record 360 ambiences and turn them into interactive 3D audio scenes. Any games supporting stereo output designers can greatly benefit from using the AMBEO VR mics to bring real-world sounds into the game, and transport the players into the immersive atmosphere they have authored. The AMBEO AR One in-ear headphones is the first listening accessory for the Magic Leap One platform, and with them, sound designers can create new AR experiences with better control over their sound. Featuring Transparent Hearing and delivered with Ergonomic Comply™ ear tips for deep bass and privacy, they let you seal off external noise for full focus or blend the outside sonic world with virtual audio to craft immersive AR experiences.
EL: What Sennheiser gear do you recommend for those just starting their careers, or looking for high quality on a budget?
SEN: When it comes to authoring immersive audio content on a budget, I would suggest to play with the AMBEO Smart Headset that captures binaural audio on a smartphone. Here is a cool example where the sound captured by the AMBEO Smart Headset sets the frame for a real shiver in a movie https://en-us.sennheiser.com/finalstop. And then the AMBEO binaural panner to bring-in spots or other sound highlights into a binaural audio mix, available for free download: https://en-us.sennheiser.com/ambeo-blueprints-downloads
EL: What kinds of things can people expect when they walk into your San Francisco store?
SEN: Sennheiser San Francisco exemplifies the brand from the moment guests enter the store and meet our warm and knowledgeable staff to recurring visits as new products are released. Guests can experience a range of Sennheiser products on two show room floors, one of which by appointment includes our HE1 headphone. As Sennheiser continues to innovate, guests can expect the latest products to be showcased in the store in an experience unparalleled to anywhere else in North America.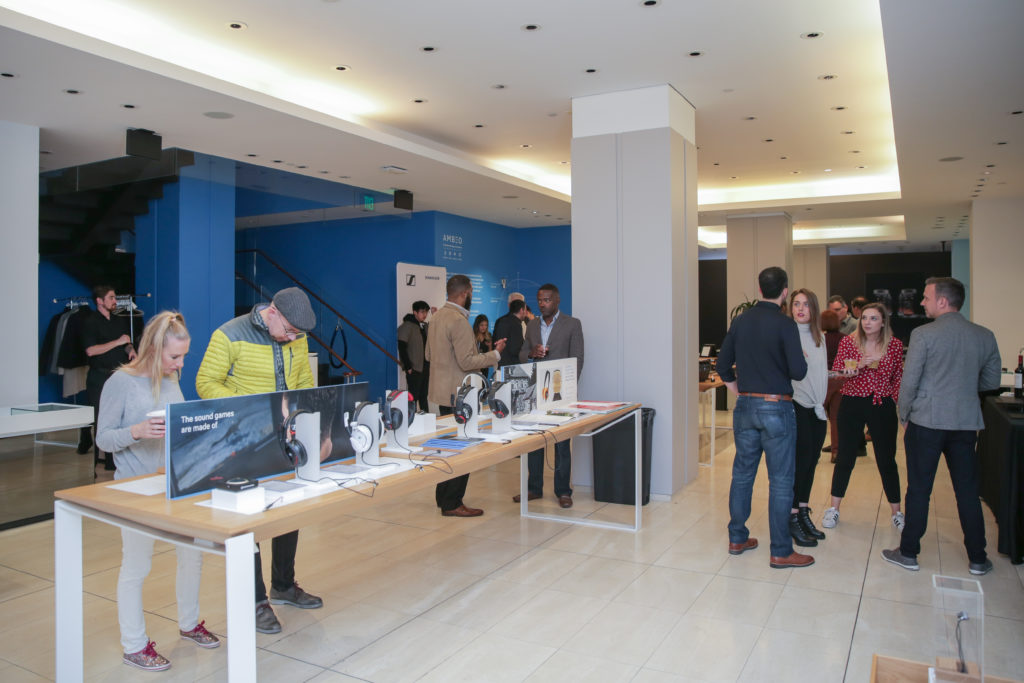 We were also able to hear from Matt Levine and get his thoughts on Sennheiser's AMBEO equipment:
ML: I carry the AMBEO Smart Headset around with me wherever I go. Besides being great sounding headphones, they have the added bonus of being able to make excellent quality recordings with my iPhone when I am out and about. I have a growing library of soundscapes made in and around San Francisco that is an important part of my creative process.
I am also working on a project with a sound healing artist named Loriel Starr. She uses a wide variety of Tibetan bowls, crystal bowls, gongs and other healing instruments to create immersive sound bath experiences. We recently did a recording session for her upcoming album, and we decided to include the AMBEO VR mic in our setup. Now we can use those stunning recordings for any VR applications in the future.The Smart AMBEO Headset and the AMBEO Mic are super easy to use, which is a rare quality on the bleeding edge of VR/AR technology. I am sure to use both of them on many projects to come.