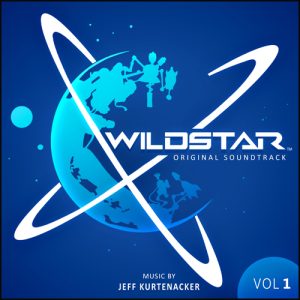 New York, (May 17, 2016) – Sumthing Else Music Works (www.sumthing.com), the premier record label dedicated to releasing video game soundtracks, Carbine Studios and NCSOFT® present the highly anticipated original soundtrack album for the free-to-play massively multiplayer online role-playing game, WildStar. The game's soundtrack will be released in multiple volumes – Volume One will available for digital download and streaming on May 31.
Composer Jeff Kurtenacker (Pirates of the Burning Sea) fuses musical elements together that bring space adventure to life. Using synthesizers, a wide array of guitars, and a 75-piece Los Angeles orchestra, Kurtenacker's approach to the WildStar universe is highly thematic, creating memorable and exciting music that engages players throughout their MMO experience. Equal parts epic space fantasy and western frontier swagger, the music of WildStar delivers a unique blend that puts you right in the middle of the action.
Join the galactic battle between the Exiles and Dominion as they race to uncover the secrets of the Eldan-a hyper-advanced race that mysteriously disappeared long ago. Trek across the beautiful and dangerous planet Nexus, and find adventure, fun, and a hell of a good time as your skills are put to the test through high-intensity combat. Download and start your adventure at www.wildstar-online.com.
For more information on Sumthing Else Music Works and its complete catalog of video game soundtracks, visit www.sumthing.com, like us at Facebook.com/SumthingElseMusicWorks and follow us on Twitter @SumthingDigital.
About Sumthing Else Music Works

Since its creation in the late 1990s by the world-renowned songwriter, musician and record producer, Nile Rodgers, Sumthing Else Music Works has become the acknowledged industry leader in licensing and distributing video game soundtracks. Possessing full in-house services worldwide, from retail marketing and sales through physical and digital distribution, Sumthing is partnered with the world's leading video game developers and publishers including BioWare, Bungie, Capcom, Crystal Dynamics, Crytek, Deep Silver, Double Fine, Eidos-Montreal, Epic Games, Gearbox Software, Konami, Microsoft, Sega, Sony, Square-Enix and Ubisoft. Their catalog of titles includes the best-selling video game soundtrack of all time, Halo 2: Volume One, as well as many award-winning and critically acclaimed titles including: Tom Clancy's The Division, Far Cry Primal, Assassin's Creed, Grim Fandango, Broken Age, Bloodborne, The Vanishing of Ethan Carter, Fantasia: Music Evolved, Borderlands: The Pre-Sequel, Infamous: Second Son, Castlevania: Lords of Shadow 2, Dead Rising 3, Castlevania: Lords of Shadow, Company of Heroes 2, Tomb Raider, Metal Gear Rising: Revengeance, Dragon's Dogma, Jet Set Radio, Journey, Borderlands 2, Darksiders II, Deus Ex: Human Revolution, Gears of War 3, Warhammer 40,000: Space Marine, Alan Wake, Halo: Reach, Fable III, God of War III, Uncharted 2, Halo 3: ODST, Dark Void, Borderlands, InFamous, Resident Evil 5, Street Fighter IV, Halo Wars, Halo Trilogy, Gears of War 2, Fable II, Crysis, Advent Rising, Fable, Gears of War, Halo: Combat Evolved, Halo 2 Volume Two, Halo 3, Hitman: Blood Money, Hitman: Contracts, Jade Empire, Kameo: Elements of Power, Mass Effect, Red Steel, Freedom Fighters and many others. Sumthing Else Music Works and Sumthing Distribution logos are copyright of their respective companies. All other trademarks are the property of their respective owners.