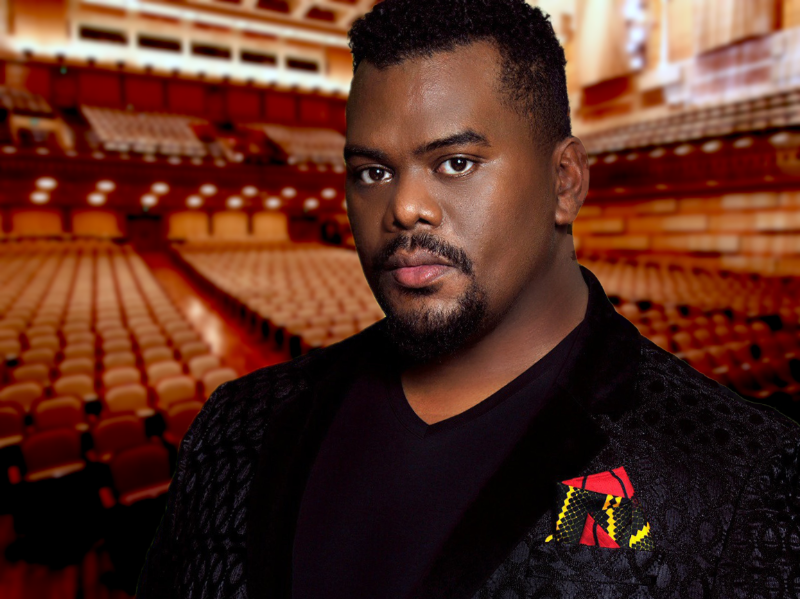 Composer and conductor Anthony Parnther was recently named Music Director of the San Bernadino Symphony Orchestra, beginning with the 2019-20 season. Since 2014, he has conducted scoring sessions and live concerts for eSports juggernaut League of Legends, which boasts over 100 million active gamers, and is the most played video game on earth. Anthony has conducted League of Legends concerts in Beijing, Seoul, Los Angeles, and Barcelona, which have outpaced the World Series with over 40 million viewers internationally.
Anthony has also collaborated onstage and in the recording studio with luminaries spanning every musical genre, including Joshua Bell, Yundi Li, Frederica von Stade, Roderick Williams, Cirque de la Symphonie, RZA, Wu-Tang Clan, the Canadian Brass, Kanye West, Wes Borland, Imagine Dragons, Erick Morillo, Zedd, Alan Walker, and Rihanna.
We were able to get some insight into his career, and what it's like for composers to work with conductors in sessions.
EL: Tell me a bit about your career. When did you get started with conducting, and how did that take shape over your musical career?

AP: Los Angeles has its own unique and thriving music scene and it has augmented my conducting career in ways I would have never imagined. Often, during the day, I can be found conducting the Hollywood Studio Symphony on a recording session for a motion picture, television series, or video game score. In the evenings, I am often conducting a symphony orchestra on traditional works (Beethoven, Brahms, Mozart) or a chamber ensemble on a cutting edge contemporary work that has just been composed.
I first flirted with the idea of becoming a serious orchestral conductor after having the opportunity to play under some legendary maestros like Bernard Haitink, Pierre Boulez, and Daniel Barenboim. After studying the bassoon in undergraduate school, I decided to pursue orchestral conducting at the graduate level, and that forever shifted my career path.
EL: How embedded are you in the process when working with a team like Riot Games? How closely do you work with the composers, and what kind of choices do you make that help serve the musical piece?
AP: I've been working with Riot Games for quite some time now. In the early days, Riot only had one staff composer. Back then, I frequently got to see sketches or fragments of themes for various characters well before they were fully realized. As Riot Games continued to grow, they began to hire a highly sophisticated team of composers, each with different backgrounds as artists, and each with different strengths that complement each other cohesively. The last several years, each of the composers have had very refined and concrete ideas about their own scores. My job was to bring these, often complex and technically demanding, orchestral scores to life as best as possible.
EL: Having toured around the world as a conductor, what have been some of your favorite venues and performances, and why? 
AP: I had the distinct pleasure of re-opening the newly renovated Queen Elizabeth Hall at Southbank Centre in London, exactly 50 years after the great English composer Benjamin Britten originally opened the hall. Getting to conduct in front of over 50,000 screaming fans at the Birds Nest Stadium in Beijing, China was also quite a remarkable experience!
EL: What is some advice you would give to composers handing their work to conductors for the first time?

AP: The first thing I'd mention is this; be as detailed as possible in your finished score. Leave no rock unturned. Make sure every single slur marking, every articulation, every dynamic, every tempo marking is in place.

Due to advances in technology, a majority of composers are able to, to some degree, hear what their pieces sound like before a live orchestra actually rehearses their work. This is because technology allows them to hear synthetic or sampled instruments "performing" their score. Composers are often alarmed by the emotional choices humans make when playing their music. They are also quite surprised by the sounds acoustic instruments actually make in real life. In this case, composers need to be prepared to be flexible.
EL: For those that haven't had the opportunity to work with a conductor, maybe because they personally wanted to conduct their pieces themselves, can you share what the benefits of having someone else conduct your piece for you?

AP: It depends on the scenario. On a scoring session, some of my composer clients that I conduct for need to be in the booth with their music editor and director to make active decisions about the score, and it's crucial that they have a trusted conductor out on the scoring stage running an efficient session while these crucial resolutions are being made. Also, the composer will be right next to his or her recording engineer and can get a far better grasp on the overall sound and mix from the booth as opposed to on the studio headphones on the scoring stage.
EL: I hear that you've worked with Rhianna and Wu-Tang – can you describe how that experience differs from your typical orchestral works? What takeaways from it can be carried over to the game audio world?
AP: Both Rihanna and RZA were absolute professionals and sweethearts. What a wonderful experience both these instances were! A dream, really. On the video game concert side of things, I've gotten to collaborate with a wide array of artists including Imagine Dragons, Wes Borland, Alan Walker, Mako, Pentakill, Crystal Method, PG One, Zedd, Against the Current, and even Yundi Li and Tina Guo. The most important takeaway is entertaining the audience, and each of these artists take their craft very seriously.
EL: When and where can we expect to hear some of your work with the San Bernardino Symphony Orchestra? Any plans to bring game music to a performance or ten?
AP: As far as my own compositions, I believe we will be performing a tone poem of mine in the 2020 – 2021 season. Some of the most compelling music being written today is for video games, and I certainly plan to share some of these remarkable and fascinating compositions with my audience in San Bernardino!