We recently spoke to one of our G.D.C. G.A.N.G. Scholars Marco Valerio Antonini about his experience with the G.A.N.G. Scholars program at G.D.C. The G.A.N.G. Scholars Program provides select highly motivated and high-achieving full-time music and sound design or audio programming students who have a passion for interactive audio with free all-access event passes to professional conferences in the video game or audio industries.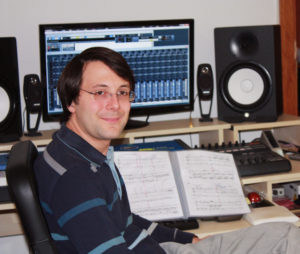 RS: Can you describe your background and future goals?
MA: I studied classical composition in the Santa Cecilia conservatory in Rome, Italy, but very early in my education I realized that applying music to visual media was my route. So I decided to take extra courses and among those a masterclass with the Oscar-winning composer Nicola Piovani, and that was the moment when I made the ultimate switch.
I started out on short films and theater as we all do, but games were always in the back of my mind, although more as an "esoteric" fascination, because this industry is pretty much nonexistent over there.
After graduation, I worked in the documentary industry scoring three historical pieces for Istituto Luce Cinecittà, the oldest doc production company in Rome, and that brought me to the Venice Film Festival.
When I was accepted to the USC Scoring for Motion Pictures and Television Program in 2015, one of the courses I was looking forward to the most was indeed the Scoring for Video Game by Garry Schyman, and that opened up a world to my eyes: not only games are an incredibly creative space for a composer, but the environment and the industry is so packed of nice and exciting people, it's a very supportive community. I started working on a USC Advanced Game Project called Adelie and the Obelisk which is currently under development, and I pretty much instantly found a way to apply my traditional orchestral skills to that fantastic world.
My passion for cinema goes on and my goal for the future is to try and cross-reference the two worlds by applying the cinematic style that I love to projects in the two media, matching it with their own idiosyncrasies and specific techniques.
RS: What made you apply for G.A.N.G. Scholars?
MA: I was introduced to the program through USC and I immediately felt that it would have been the perfect opportunity to get a full immersion experience of the game industry, by hearing from the live voice of the protagonists in the AAA scene, as well as taking a look at the indie industry. GDC is the center of the world, and GANG Scholars not only makes it accessible, but puts you in the unique spot of experiencing it under the guidance of an A-list mentor who sits with you and walks you through the basics of the industry. To me, it was the natural video game extension of the USC Scoring program.
RS: What was the G.A.N.G. Scholars process like after you were accepted? What happened when you arrived at GDC?
MA: I was contacted by Brian Schmidt who introduced me to my mentor Alexander Brandon and we exchanged information about the Conference and organizational details. Upon my arrival in San Francisco, we were constantly in contact and they helped me with the GDC check in process, then we met for an introductory meeting, where Alexander walked me through the conference program briefly, giving advice about how to get the most of that intense schedule.
RS: Who was your industry mentor and what advice did they give you?
MA: I guess I gave the answer away already, huh? So, Alexander Brandon is a veteran of digital composition and sound design. The core of his career was on Epic Games, with iconic titles such as Unreal, Deus Ex and Unreal tournament. I would say that the specific characteristic who make him a great mentor is the fact that he kept doing this through all the changes that this evolving industry underwent, technically- and business-wise, therefore he has a synoptic view of what the landscape looks like today, and that's unique. In addition, he is one of the most transparent and supportive people I've ever met, willing to share what he learned on the field without reticence, a priceless quality for instructors and mentors.
The most valuable pieces of information to me were those related to how to navigate the business, how to identify the people in charge and interface with them, promote yourself and "stay in the game".
RS: What was a highlight of your experience at GDC?
MA: Attending composer Gordy Haab's panel about the soundtrack to Star Wars Battlefront. Not only that lecture was amazingly structured and inspiring, but that also allowed me to connect with Gordy, who turned out to be based in L.A. as I am, and that eventually resulted in a collaboration ongoing today. I have been assisting him since September 2016, and that allowed me to work on a title such as Halo Wars 2, recently recorded here in L.A. at the Newman Scoring Stage on the FOX Lot.
RS: I understand after the GDC you are now working on a game as a result of the conference, how did this come about? What is the game?
MA: I met the team behind Fort Triumph at the Indie Megabooth at GDC. They were exposing close to the conference halls and I was captured by the visuals of this fantasy themed RPG who was gathering a significant crowd around the three computers running it. I played the game, and talked to the members of the team, discovering that they didn't have an appointed composer for the game. The thematic and tone of the game resonated a lot with me, so I sent them a brief demo and we decided to give the collaboration a shot. I have been working on it ever since, and the game recently passed the Steam Greenlight program, so we are all very excited about it!
RS: Any final comments about the G.A.N.G. Scholars program?
MA: I think everyone who wants to start up his career in the game industry should consider the G.A.N.G. Scholars program because it provides a unique insight into the industry: you can come back from the GDC understanding the basics of how it works. That's invaluable for both fresh-starters and people who, like me, had previous experience, but in an industry which is significantly different in dynamics and shape.
The mentorship can be an invaluable tool to understand how it works from the inside, and the opportunity of having a Full Access pass to the GDC can be a career booster, and one that is very hard to afford otherwise.